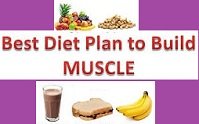 Top 10 Foods to Build Muscle for Healthy Figures
Exercise alone is not enough to develop the musculature. Here we explain top level foods to build muscle for your good health.
We also need proper nutrition, which will include an adequate number of calories and macronutrients abundance.
Some basic rules to follow to make sure that your diet promotes muscle growth are the follows.
– Choose foods that have been untreated.
– Choose foods with a low glycemic index, and metabolized more slowly and provide a steady flow of energy.
– Choose foods rich in protein, especially of animal origin.
– Choose foods with high nutritional value, rich in vitamins and minerals.
– Avoid junk food
According to experts of Strength Authority, the top 10 foods to build muscles are:
Beef:Provides whole proteins, i.e. proteins consisting of all amino acids which the human body needs. Beef also provides a wealth of important vitamins and minerals that strengthen the muscles.
Brown rice:It has a low glycemic index, thus providing the constant flow of energy needed during exercise with weights. Furthermore, brown rice promotes the release of growth hormone in the blood, thereby contributes to muscle growth and fat loss.
Egg:It is an excellent source of protein and many other essential nutrients ensuring excellent metabolic function and proper immune system function.
Chicken Provides clean and good quality protein,which helps muscles recover after exercise. The chicken has much less fat than other meats and also can cook it in many different ways.
Oats:It is a good source of carbohydrates that we can choose whether we aim to muscle growth. The oats have a low glycemic index and are rich in fiber, which facilitates the functioning of the gastrointestinal system.
Salmon:It is one of the fish with the highest protein content, but in addition provides fatty acids (Omega 3) that promote muscle growth. Salmon is also one of the few foods that provide a significant amount of vitamin D, which is involved in the development of new muscle tissue.
Sweet:It is a source of good carbohydrates, having a low glycemic index and is rich in fiber. The yam is also a major amount of vitamin A and vitamin B complex, which function in the body as antioxidants.
Milk:Milk proteins provide all the amino acids needed for growth and repair the muscle tissues. Although some types of milk are high in fat, these fats contribute to muscle growth.
Cheese cottage:Provides and proteins and carbohydrates and also have few calories.
Strained yogurt: It provides enough protein and good fats. It helps to develop muscle tissues and also improves muscle cell health.