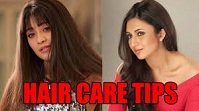 The Top 7 Tips for Shiny and Healthy Hair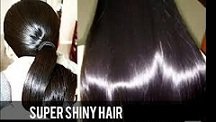 We've all seen the popular hair adverts where a beautiful model is brushing her flawless hair through her fingertips and laughing because she knows she has the hair of a princess…no, of a god.
It's mesmerizing.
And shiny hair that is healthy and free from split-ends is something many of us aspire to. But how can you achieve shiny, happy and healthy hair? It's really not as difficult as you might think. In fact, there are a number of lifestyle changes you can make to encourage healthy hair growth – helping you get that glimmering shine you've always wanted.
1. Let Your Hair Dry Naturally as Often as Possible
Applying heat to your hair, either through the use of a hairdryer, straighteners or a curling iron, can damage your hair, causing it to become frizzy, dry and damaged over time. To avoid these unsightly problems, use as little heat as possible by letting your hair dry naturally.
2. Apply Oils to Your Hair Frequently
Coconut oil is great for, well, everything! But especially for dry skin and hair. Make sure to oil your hair with coconut oil around once a week to help replace those natural oils that are lost during washing, helping your hair retain its shine.
3. Encourage Natural Oils in Your Hair
Here's some advice you might not want to hear; don't wash your hair for a day or two. I know, it's disgusting and it can get so greasy but that's a good thing! When you avoid washing your hair, natural oils build up and replenish it. Although it may look very greasy after a day or so of not washing, it is a good sign that your body is producing natural oils that are healing to your scalp and hair – replenishing it.
4. Regularly Massage Your Scalp
There have been a few occasions when I have popped into a hair dresser and they have offered me a scalp massage. And I am never one to turn down a massage. If you're the same then you will be delighted by my next statement:
You should aim to have regular scalp massages – every day is ideal!
I know what heavenly instruction is this? Well, frequent scalp massages are incredibly beneficial as they increase blood flow to your scalp, encourage hair growth and help produce those lovely oils that are loved by your hair.
5. Wash Your Hair with Cold Water
Surely you didn't think all of my hair care tips would be that easy, right? If you did then you're in for a shocker as I suggest cold water showers! Brrr…. nobody enjoys a cold-water shower (surely?) but cold water is one of the best treatments for your hair as it helps seal your hair cuticles, encouraging your hair to lay flat. It's one of the best ways to treat static or frizzy hair and is certainly worth that cold end to your relaxing shower in the mornings.
6. Buy Plenty of Bananas
Bananas are a great way to achieve healthy hair. Full of potassium, bananas help improve the natural health of your hair. But you don't need to eat them to get the health benefits, so if you don't like bananas, there's no need to worry! Instead, mash up a banana in a bowl and apply it to your hair (starting at the root and working to the tips). Leave the mash on your hair for about 15 minutes and then wash it off thoroughly with a good shampoo. It's a messy job, but mashed bananas are ideal for your hair and can help in treating hair that has been damaged or is dry.
7. For Silky Hair, Try Eggs
Eggs are the solution to super silky, luxurious hair. You can either massage the yolk of an egg directly into your scalp or you can make a mixture of 3 egg yolks, 1 tablespoon of olive oil and 2-3 drops of vitamin E oil for the optimum shiny hair solution. Leave the mixture on your hair for around 15 minutes and then wash it off thoroughly with shampoo. For the ultimate shine, repeat this process once a week!